AVAILABLE PATTERNS:
Thermoactive Balaclava
Thermoactive winter balaclava is a perfect solution for professional athletes as well as amateurs. Balaclavas with print additionally provides a more personal and original look. Ideally suited as a ski balaclava, snowboard balaclava or motorcycle balaclava.  Two thermal layers prevent the body from overheating on warmer days and in the winter it will maintain the right temperature. You can also wash it without problems, it will not lose its properties.  So if you're looking for a perfect balaclava, you've come to the right place. With us you'll find the most unique designs in the entire network.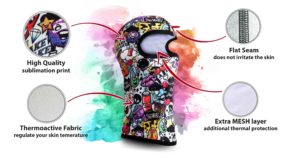 Balaclava "SNOW" Characteristic
Termoactive balaclavas are made of the combination of hydrophilic and hydrophobic fibres that provide the thermal body comfort. During the warmer days, balaclava lets effectively evaporate the moisture from the skin. When days are colder, it prevents from declining the body heat and cooling. Due to the special outer layer, the active surface was boosted. It makes the process of dehumidifying even more quicker. Furthermore, the fabric does not get wet and stick to the skin. Special termal layer incerease termal comfort while cold winter days.
To make our balaclavas more comfortable, we use a special flat seams which are used in high quality sports clothing. Such seams do not irritate the skin, make scrapes or reddening.
Our unique graphics are transferred into fabric by one of the most tough printing method – sublimation. This technique allows to print in very intensive hues, almost in photographic quality. Simultaneously, one cannot sense by tuouching the graphics on the textile, which does not react with its thermoactive features. You will see how many people's will look at you, when you wear our skull balaclava or balaclava mask.
Thermoactive balaclavas have one universal size. They fit perfectly for man and women and kids above 13 years old. We create special model for the youngest ones, you can check it here –> KIDS Balaclava
Ski mask  balaclava "Snow" can be washed according to the instructions on the inner label, without worrying about the loss of the quality of the print.
Not only for skiing!
The Thermoactive Balaclava Snow is used in many areas of life.
It can be used by skiers, snowboarders and also enthusiasts of winter mountain trekking,
uniformed services, construction workers or in general outdoors on cold days.

Print your own pattern
If you have an idea for your own print on balaclava, we are able to do it.
Send us your own pattern, company or event logo.
The minimum order is 50 pieces.
We consider each order individually.
Write to us and find out what price and time realization, we'll make it for you.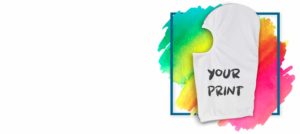 You may also like: