Print your logo
Balaclavas with your logo will be a perfect form of promotion for your karting tracks or a company. We've tested it on hundreds of karting tracks of our clients in Europe – they are one of cheapest and at the same time one of most effective ways of advertisement. Customers owned balaclava with your logo, can appear with it in other places and advertise your business. It will also improve your company's image and your clients will feel your professionalism.
Printing method
Prints are made by the screen-printing technique.
With the maximal print size of 12 cm x 8 cm.
Prints are available in 1 colour, 2 colours, 3 colours, and more colourful versions.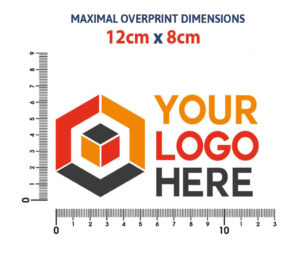 It's a most sustainable print method, highly-resistant to washing, moisture, and mechanical failure.
We make prints on all models of our cotton balaclavas:  220g Medium, 200g Light, EaseFit 160,
220g Panther (with longer neck & special flat seam) and 220g Tactic (with longer neck).
Individual packaging Hi-Gen.
Improve the professional look of your company!
For advertising purposes, on the top of the package, there is a large transparent "window" through
which you can clearly see the colour and texture of the balaclava, and the possible logo of the customer.
From now on, your logo will look better than ever!
It will always be the first thing the customer's eyes encounter when looking at the package of the balaclava.